Humankind has to prepare for worst as last male northern white rhino battles illness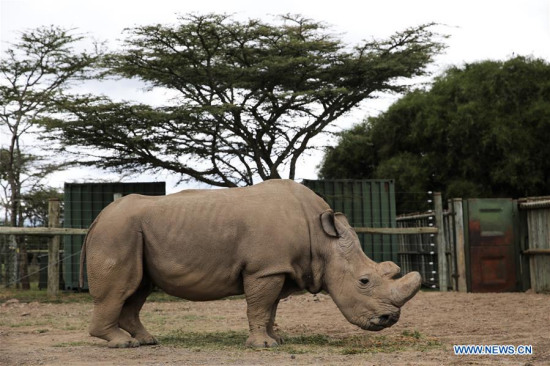 Photo taken on April 28, 2016 shows Sudan, the last male northern white rhino in the world, at Ol Pejeta Conservancy in Nanyuki, Kenya. (Xinhua/Pan Siwei)
The world's only remaining male northern white rhino has been battling with a life-threatening ailment, throwing the world's conservationists into a spin.
The 45-year-old giant land mammal, fondly named as Sudan, has been sheltered at the Ol Pejeta Conservancy in the northern Kenyan county of Laikipia, and has lately grappled with an infection on his right hind leg, undermining his capacity to roam around and forage.
Sudan's health remained critical though veterinarians have been attending to him twice a day, Elodie Sampere, communications manager at Ol Pejeta Conservancy told Xinhua in an interview.
"There has been no significant improvement on the health of Sudan and doctors are on the standby to administer treatment twice a day," Sampere said, adding that conservationists and scientists are still hopeful the iconic species will overcome the current ailment.
Conservationists from all over the world have been fascinated by the last remaining male northern white rhino with concerted efforts to prolong its lifespan.
Under a "Last Chance to Survive" breeding program supported by global wildlife campaigners, Sudan and two of his female partners were relocated to their current abode in northern Kenya in 2009 to induce their breeding through a conducive natural habitat.
However, due to advanced age, Sudan was unable to breed with his female partners, Fatu and Najin, adding to the fear that the white rhino subspecies was on the verge of extinction.
---